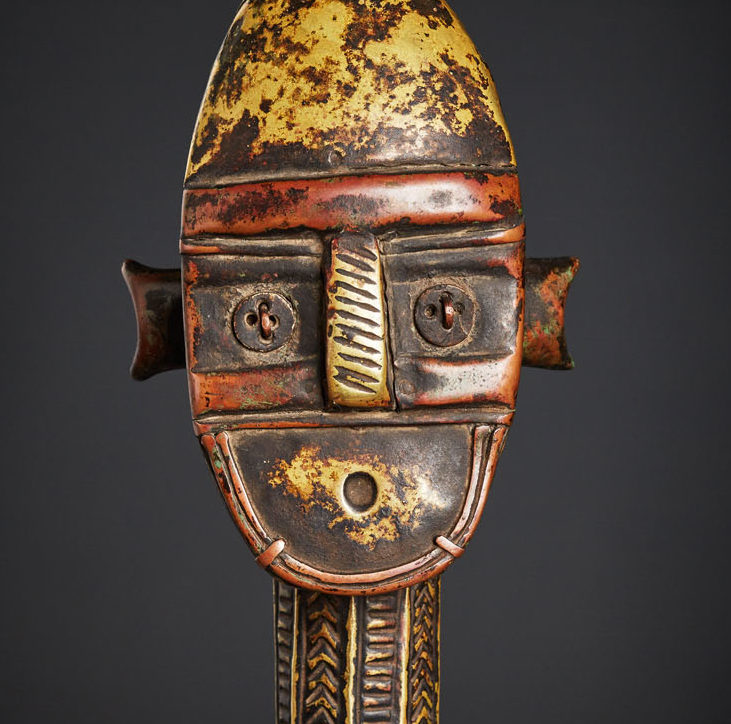 Sculptural element from a reliquary ensemble – Gabon, Kota Shamaye (or "Kota Sango"),
origin: equatorial forest, africa
region: gabon, (Massango, Sango, Shamaye)
age : XIX – XXth century
figure: KOTA,"boho-na-bwete",reliquary figure (figure de reliquaire)
size / material: hight 45,5 cm / head ear to ear 10,5 cm/ rhombus 8,0 cm / neck 3,5 cm / lower shaft 5,0 cm – wood, brass, copper, bone, bark or leather, nails
This KOTA (http://www.randafricanart.com/Armand_Kota_Mahongwe_Collections.html) stylistically seem to be related to the "SANGO" amongst the lager complex of the Mindassa, Bawumbu or even further north to the "SHAMAYE".
It is a superb work of art that could only be completed by a sculptor at the peak of his craft and skill in his generation.
This fine example was found and sold to the collection by Mr. Issah Mbohou, Bruxelles.
It belongs to a group of three KOTA´s all from the same african village, area and family close to Ndumu group in the region of the river Sébé.
Based on the information received from the remaining family they could date back three or even four generations. The name of the family chief changed in the course of time with the pre-colonial name beeing Ongwé Mboumu wich than ended up beeing Jan Pierre Mbumu post colonial.
These objects have stayed within the family longer than a century until sold!
All three KOTAS still remain united in the collection today and are a rare and unique convolute from the same master or workshop.
The human form reduced to the essence is characteristic for this group of reliquary figures produced by the SANGO or SHAMAYE of gabon.
First and foremost one must note the human like face. The eyes wich are made of bone were of white ivory color to stare into the darkness as these figures would be presented during cermonies at dawn or night. They now have developed a "bone typical" age related patina. The high, prominent forhead is covered with a corn yellow brass held in place by handcrafted iron cramps and nails. The same tone of color is also found with the nose decorated in detail with small nicks and also at the lower plate wich contains a hollow mouth. Just like with most effigys of this style the head rests on a elongated, columnar neck also covered with brass masterfully executed showing fine ornatmental decoration.
This KOTA (http://www.zyama.com/kota/pics..htm) example shows a natural sign of use and aged patina with a close to perfect harmonic balance of brass and copper down to the smallest detail such as the cricular moveable metal "rings" around the shaft. The complete eye section from eyebrows to cheeks, including the outline of the two fine strips on the lower part oft the face are all made of a deep red cooper wich is also found on the stylized ears projecting sharply outwards from the sides oft he head.
The "hair" style is sublime and shows similarity to a truncated cone that tsogo women reportedly wore around 1860/1870.
The body is executed as a small rhompus that suggest the indictaion of shoulders and arms highlighted by three nails wich are found also on other masterpieces that date before 1900.
What gives this "grand KOTA" (https://www.pinterest.de/bczerniewski/africa-kota-figures/) its subtle beauty is the smoothed wood patina, handled by generations of hands wich in contrast to the chromatic brilliance of the metal, indicates a work by a master. Absoluty smooth with no sharp edges this is a rare example of fine pre-modern african KOTA from gabon.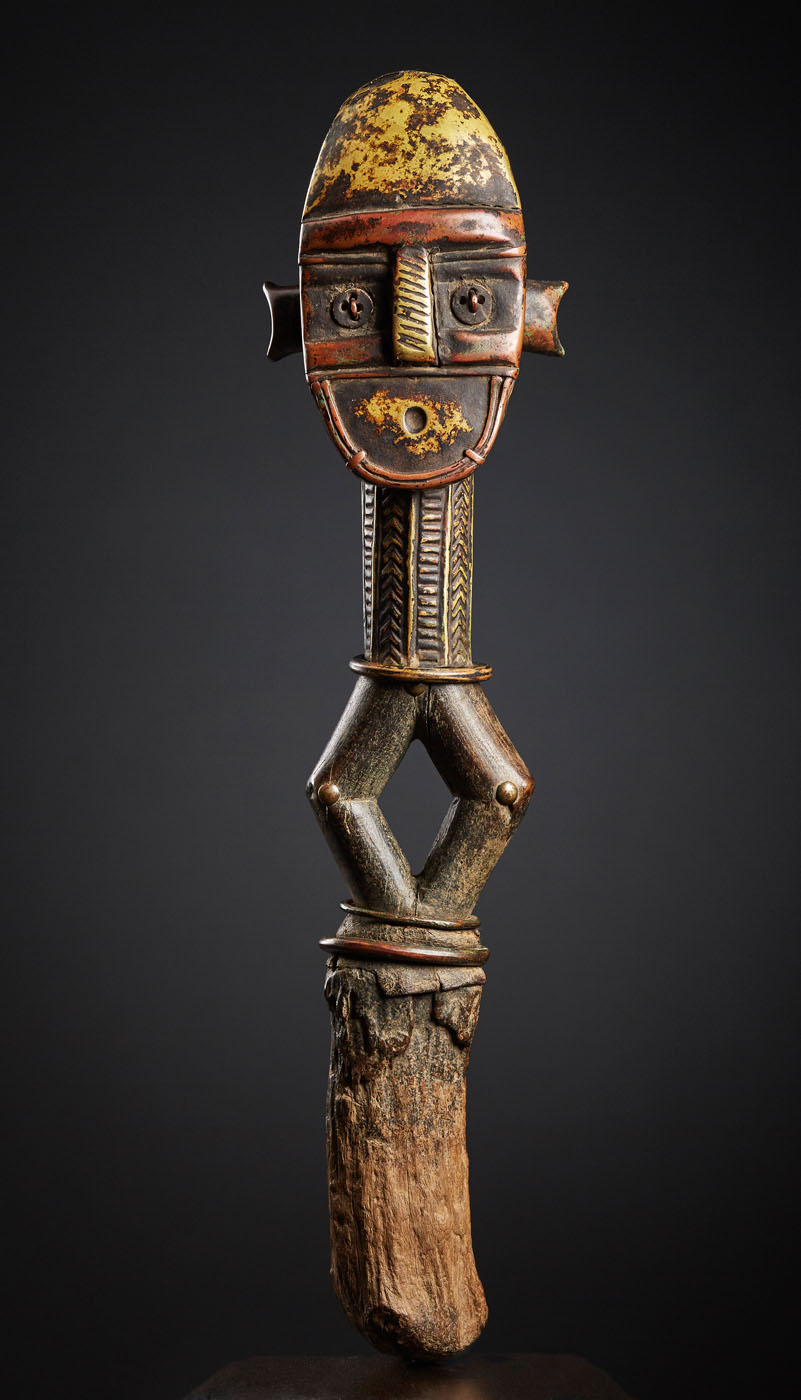 References:
See similar details on the "nose" //"hollow mouth" // "outline of copper strips on the lower mouth part" on a Kota Sango figure auctioned by christies 21. Nov. 2017// Collection Pierre et Claude Vérité
See similar details on the "rhombus brass nails" on a Kota Sango reliquary figure sold by sothebys 05th of May 2017 // Private collection USA
See similar details on use of "brass nails" on a not related masterpiece that clearly dated before 1910 // deux cuilleres auctioned by christies //from the collection of Bernhard et Bertrand Bottet, nice
See similar details on use of "brass nails" on a not related masterpiece that clearly dated before 1910 // D.R. Congo Vili // Collection Alain Guisson, Bruxelles
See similar details on "height" and the "rhombus brass nails" on a Kota Sangu reliquary figure, home formerly in the musee dapper, Paris, before 1914 // from the collection of Guillaume et Alfred Stieglitz
See similar details on the hair style "truncated cone" from a Kota reliquary figure on a photo published May 06th 2013, from the Gustave and Franyo Schindler Collection of african sculpture