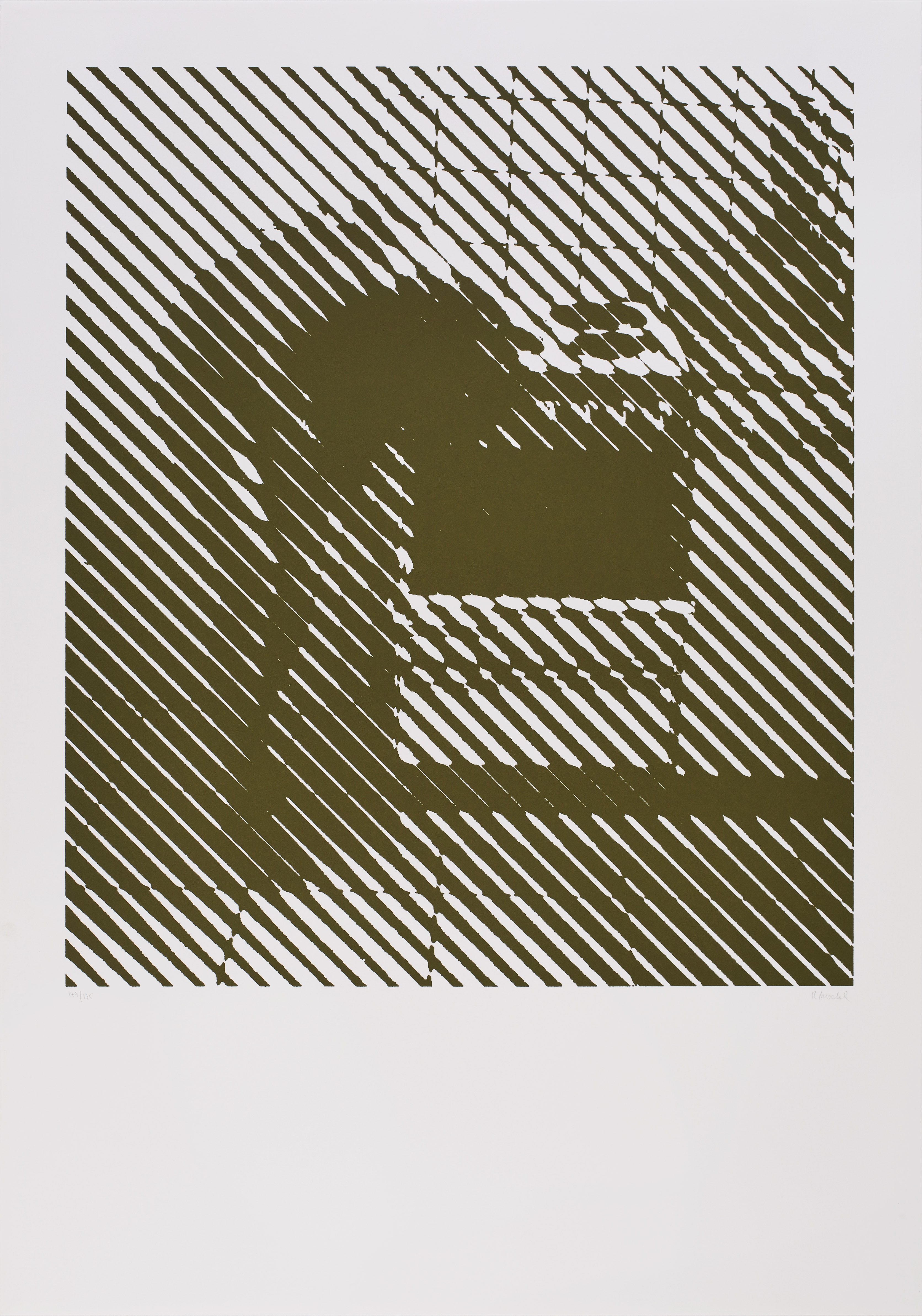 Artist – Rosemarie Trockel
1952 Schwerte
Title: "no Titel" ("Frau am Herd")
From: Achenbach Art Edition 1994, for Museum für Moderne Kunst, Frankfurt
Date: 1994.
Technic: color serigraph on Fabriano (Watermark).
Motive: 70 x 60cm
Sheet: 100 x 70cm.
signed and numbered 149/175
Provenience – MMK (Museum für moderne Kunst, Frankfurt, erworben 2000)
condition: excellent
taken from the official edition including fourr other works by1) Stephan Balkenhol 2) Peter Fischli/David Weiss 3) Claes Oldenburg 4) Thomas Ruff (Fotografie)
copyright for this work, rights and original photo owned by the artists, reproduction photo of this image owned by a private collection
Rosemarie Trockel (*1952) is widely regarded as one of the most important and influential conceptual artists in Germany. Her sculptures, collages, ceramics, knitted works, drawings and photographs are noted for their subtle social critique and range of subversive, aesthetic strategies—including the reinterpretation of "feminine" techniques, the ironic shifting of cultural codes, a delight in paradox, and a refusal to conform to the commercial and institutional ideologies of the art system. The Potsdam-based artist has been associated with the gallery Sprüth Magers since 1982.
Trockel made her mark in the 1980s with a series of machine-knitted wool paintings that superficially mimic the aesthetics of abstract paintings. They are rendered in monochrome or feature rhombic patterns, checks, stripes and classic knitting patterns, but also speech bubbles, trademarks including "Made in Western Germany" or the Woolmark, and logos such as the Playboy bunny or hammer and sickle. Rife with art-historical references, they draw upon Pop, minimalism, Op art and modernist abstraction. Trockel confronted the patriarchal dominance of the art world with a material more evocative of womanly housework than an artistic medium—one that was associated with virtuous diligence and had historically been used to temper women's imagination and ambitions.
Trockel's sculptures are characterized by a similar interplay of virtuosic irony, aesthetic-analytical sensitivity and socio-political provocation. One example are Trockel's iconic hotplate works, for which she transforms the hotplates on electric cookers into wall reliefs, floor objects or sculptures that resemble loudspeakers and record players. The artist's sculptural oeuvre spans from the so-called Schizo-Pullover (1988), a sweater with two necklines, to Jesus figures whose sex is revealed under a loose loincloth. It also includes a series of "animal homes" that playfully imagine dwellings for animals, going so far as to convert a wig into a House for Lice (1994). The artist has also been designing so-called Moving Walls since the early 2000s, works made of coated aluminum discs that are attached to a wall like moving sequins, transforming the wall into a picture surface that refracts light in various ways. The artist's objects are almost always defined by a focus on the viewer's particular physical experience in their perceptive interaction with the artwork. Constantly shifting, they undermine viewers' understanding of objects so as to generate new, unforeseen meanings.
Trockel's oeuvre is fueled both materially and conceptually by a constant process of collecting, overwriting and re-ordering. This impulse becomes clearly apparent in her more recent Cluster (2015–present) works, which consist of digitally reconfigured photographs that the artist recombines with idiosyncratic logic to form a kind of visual diary for various exhibitions. Or in her more recent collages, for which she applies various materials to painted wooden frames in an assemblage-like arrangement. Some of these materials quote her own works, a method that allows her to bring her radically open, free and constantly changing creative process to the fore. Trockel regards the artwork as an unstable aggregate of form and concept, deploying this radical instability to dismantle a range of cultural categories, rules and dogmas. (Text Sprüth Magers Gallery)