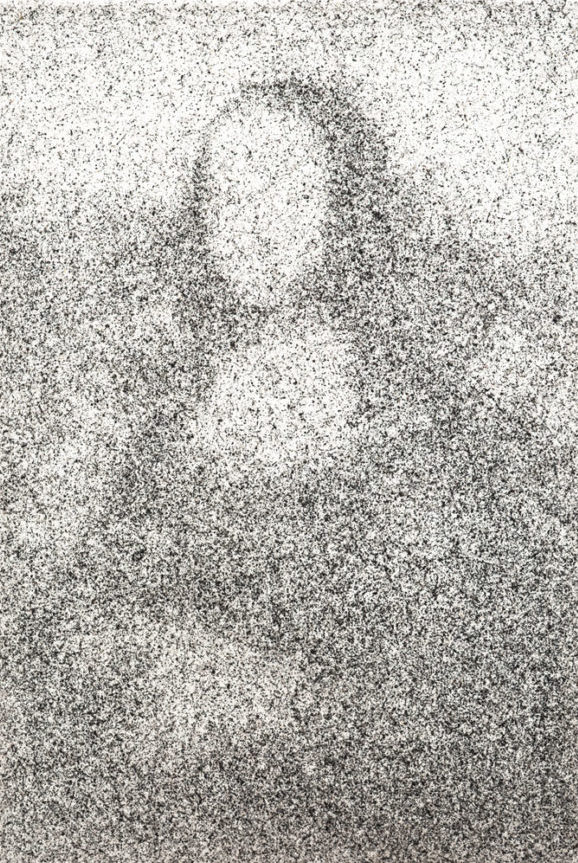 Artist – Maximilian Prüfer (*1986 born in Weilheim Obb)
Title – Mona Lisa (La Gioconda) 2
Technik – ink on Paper (Hadern-Papier)
Size – Bogen 90,1 cm x 64,8 cm // sheet 35,5 inch x 25,5 inch
Signed by artist (back), COA from gallery on file
Provenience – bought from Artist via gallery 
copyright for this photo / art work owned by Maximilian Prüfer
Photo courtesy provided by www.a-private-collection.com
Maximilian Prüfer chose the most iconic works of art history to be interpreted by flies. The result is an exhibition which shows us behavioral structures in a unique way and leads us into an exciting examination of ourselves as individuals and as part of society.
"In the famous "Allegory of the Cave" Plato explores the tension generated by the multiple representations of reality.
In the context of this exhibition, this myth could be a clue to disclosing the topics behind Maximilian Prüfer's new body of works. What is the knowledge of that single individual who finally went out of the cave and saw the forms of the real world? What is the knowledge of his companions? And ultimately, what is the knowledge originated by the sum of the visual knowledges of all the men, and where does it lie?
Taken as a whole, Maximilian Prüfer's research is a multidisciplinary study including philosophy, semiotics and biology, aiming to investigate the multifold approaches to the world understanding through the utilization of insects and environmental phenomena. His work tends to highlight what could superficially be perceived of as natural random activity, detached from human-scale concerns. Gathering together knowledge from different realms, the artist's practice stages ontological issues within the context of neurological and behavioral biologic mechanisms." – Lucia Longhi
Prüfer´s works were recently shown at the Leopold Museum, Vienna, AT, 2018/19; Museum Villa Rot, Burgrieden, DE, 2018; Sotheby`s Munich, DE, 2018; Museum Sinclair Haus, Bad Homburg, DE, 2017; H2 Zentrum für Gegenwartskunst, Augsburg, DE, 2017; Neue Galerie im Höhmannshaus, Augsburg, DE, 2016.
Maximilian Prüfer is a recipient of the Konrad-Adenauer Foundation EHF Artist Grant 2018